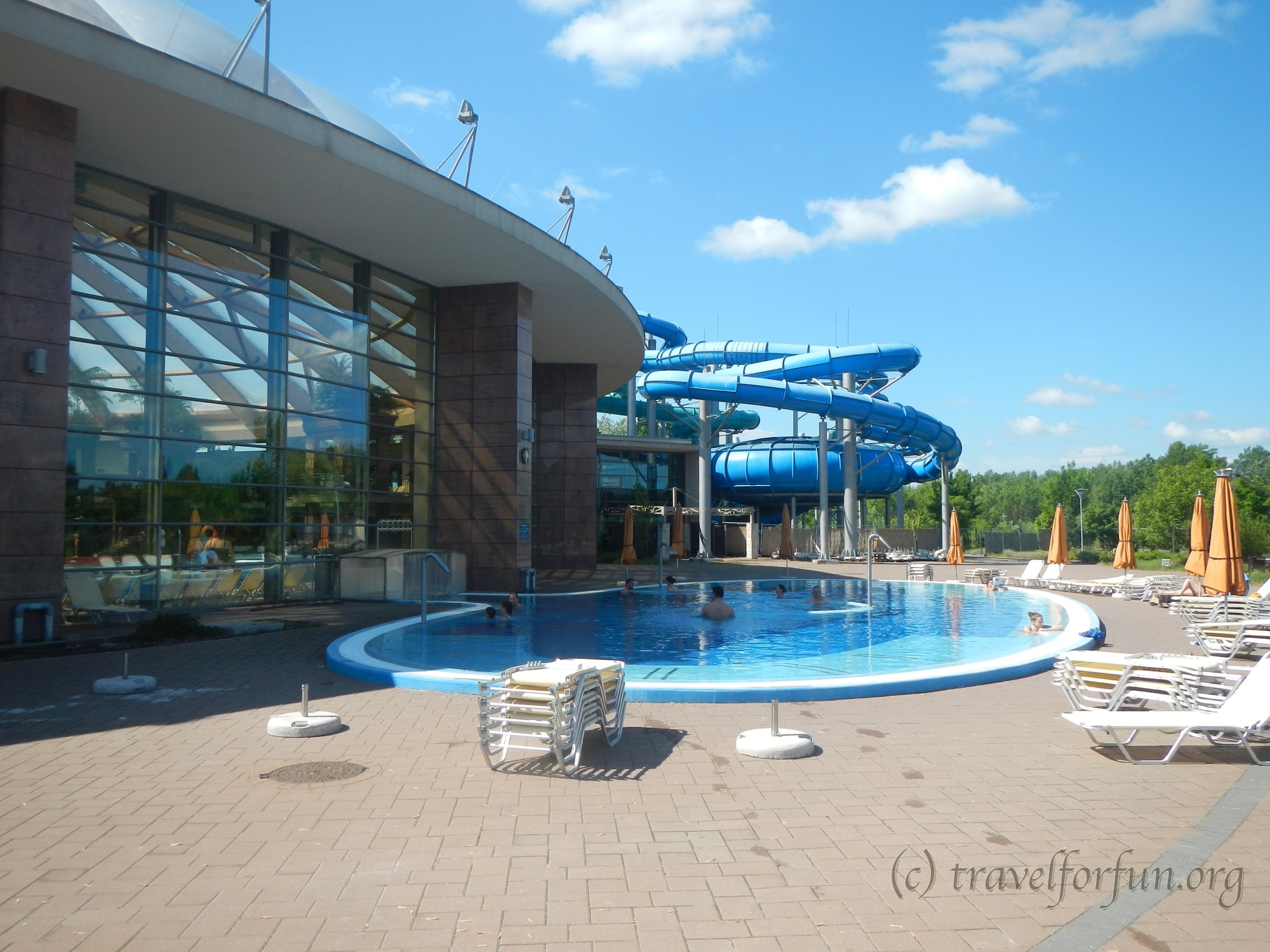 Aquapark in Budapest
07.06.2016
After visiting most popular sites in Budapest, we had one free day. So, we decided to go to another side of the city and evaluate the local aquapark.  We went there on Sunday morning. We  were informed that on Sundays it is usually overcrowded. But locals usually come there after lunchtime, so if you come there in the morning, you have a good chance to occupy a good place and to ride the water slides without long queues.
The aquapark is located outside the city near M0 bypass road.
Near the aquapark there is a large parking lot. But we couldn't understand the payment rules. There were gates on entrances. But when we arrived, they were open and the entrance was free. Maybe it was because on Sundays  parking in Budapest is free everywhere.
You can stay in the aquapark without any time limits. A locker is included into the price. All of them are in the common area. To change, there are special dressing rooms.
The aquapark is under a roof, but some pools are outside. There are six main water slides. You can reach them either by lift or by stairs. All slides are equipped with sensors and lights. While somebody is using a slide, a red light is on. Only when green light is on, you can use it.  It's very convenient. Also there are limitations in height. If you are lower that 140 sm, you can't use slides like "kamikaze".
Among all slides, this "kamikaze" slide was told to be the most interesting. But as for us, it is not so extreme. All of them are more or less similar. Only "UFO" can cause some trouble. Inside, you get into a big bowl and sliding round, should get into a next hole. If you go with somebody else, you can stick in the middle of the bowl and must help yourself to reach the next side.
Because we came early, we managed to enjoy all slides. But after the lunchtime, as we were informed, a lot of people came there and we should wait a lot to ride.
Inside the aquapark is very interesting architecture. A lot of statues and plants.
A large area is made specially for kids. There is even a place for toddlers with small slides and pools.
For older kids there is a special family slide. It is recommended to use it in a group. Near this slide an automatic photo camera is installed and you can choose and order your photo from a monitor near here.
Of course, there is also an ordinary swimming pool. Sometimes it is used for divers' training. You will be informed about it via a special plate.
In a pool with hot water and artificial river you can just sit and enjoy a water massage. Or you can dive and take an underwater picture which is also can be ordered and printed.
For fans of extreme sports there is a special surf simulator. While we were there, it was switched on only ones. But maybe you should order it. With this simulator you should lie on a board and try to  stay on the rapid flow of water. For safety, a swimmer must be equipped with a helmet and a safety vest.
For extra money your kids can run inside a big plastic ball.
If you are hungry, you can visit a cafe with a very affordable prices. It's a typical cafe where you can serve yourself. So, everything there is made to make visitors happy.