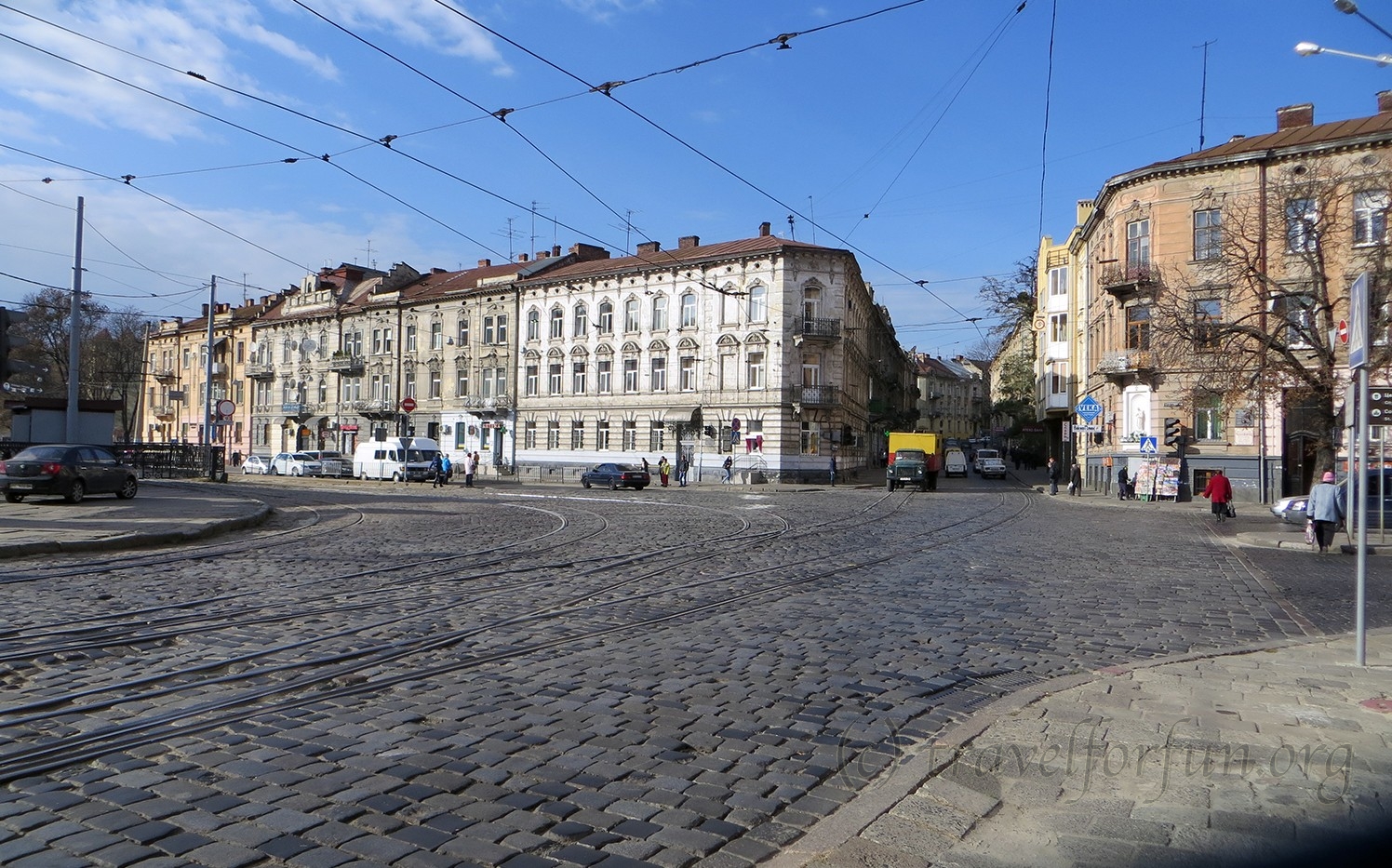 Free navigation for iOS and Android
04.01.2016
0
By
Administrator
While preparing for any journey, you have to think about a good navigation system. The first idea to solve this problem is to use your smartphone. All of them are equipped with one or several satellite sensors and help you find the right way. Unfortunately, many people think that a good smartphone navigation system is always expensive and all free systems like Google Maps require Internet connection. Google Maps, for example, can download a part of a map for offline usage, but it's not always very convenient. So, I decided to find different navigation systems which can be used during my trips. The requirements for these systems:
Download maps for offline use
Build routes offline
POI (points of interests) database (petrol stations, hotels, etc)
iOS and Android support
Free
In this article I will investigate systems which work with scheme maps. They include roads, cities and so on. But they are not topographic maps which include detailed landscape, hills, forests, etc. Topographic maps are used by hunters, hikers and geocachers. But it will be the topic of another article. For now we want to find a way to a city and inside the city.
I've chosen three systems, which are the best for me:
Here Maps
Yandex Navigator
Maps.Me
Here Maps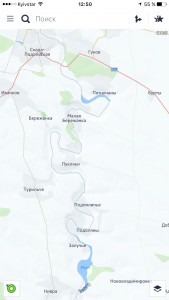 Ex-Nokia division, is considered one of the best navigation systems in the world from the maps accuracy view. The maps include both main and country roads. My experience shows that the maps are updated regularly.
You can download the maps directly from the application. The maps of the whole world are available. So, you will never lose your way with this system.
Creating routes is quite fine. But there are no settings of priorities. Like in all the reviewed systems. The main disadvantage is that Here often offers you a route by country roads which are usually in a  bad state. So, after creating a route, check it and make sure that you won't finish your trip somewhere in a swamp.
Here Maps can show you information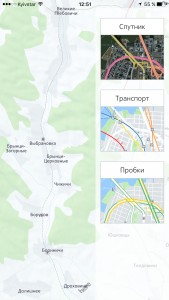 about traffic jams. But accuracy depends on a country. For example, in Ukraine this system is not very popular and traffic jams information is inaccurate. I didn't find any options to use traffic jams information during route creation. As for me, the system doesn't use them.  Also there are options to see satellite pictures and public transport information.
Talking about points of interests, there are two options – online and offline. But there are no categories of the points. Only keywords search.
The system also has 3D view. It is used automatically after starting the navigation or manually by enabling the corresponding option. Here Maps works quite fine with satellites. It sometimes loses the signal but quickly restores it. An informational message about the status of the signal is very useful.
I use Here Maps as my main navigation system because it's more convenient and functional during long trips.
Yandex Navigator
The younger brother of Yandex Maps, Yandex Navigator was specially designed to use it in cars. By default it works in 3D mode, but you can change it. The number of settings is small. It can work with Yandex Jams system and that information is used to build the easiest route. In Ukraine, where Yandex Jams is popular, such a feature is very useful.
You can download a map of any region for offline use. It's the main difference from Yandex Maps where you can download only city maps. The maps are large and require a lot of free space in your devices. Maps are available for Russia, Ukraine, Belarus, Kazakhstan and Turkey. All other regions are available only with online maps. Also Yandex Navigator can't create routes without the Internet connection. So, it doesn't really meet the requirements.
The main advantage of the system is good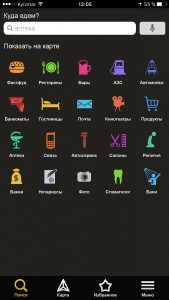 POI database with different categories. There is information about almost all organizations in large and medium cities with addresses and phones. That's why I like using Yandex Navigator in cities. But I'll never take this system to mountains.
Also I don't like that Yandex Navigator more often than other systems loose connection with satellites. In this situation there are no messages, so you can easily miss the needed turn.
Maps.Me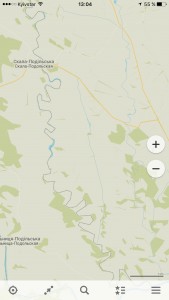 Several years ago I saw a lot of advertisements of this program. It was paid, but then became free. The essence of it is in the name. And nothing more. Maps.Me allows you to download any map of the world to use it offline, create routes and work with points of interest. Just as much as we need.
The maps are accurate. But I don't like it when you zoom out a map, titles of small towns disappear.  For example, you can compare two fragments of the same map from Here  and from Maps.Me in this article. You will find that on the snippet from Maps.Me there are no towns along the river. But it can be very important.
Maps.Me can't work in 3D. It's not very important, but if you have got used to traveling with this mode, it will be inconvenient.
Routes creations can work offline. But it takes more time than in the other systems. There is no information about traffic jams or public transport. So, I hardly ever use this system and keep it only because there is another source of maps. Sometimes It's a good idea to check an area with different maps.  Especially if we're talking about distant regions.